Day 01 - Chennai
Arrive Chennai and check in to hotel. S/S. Half day to Kalikambal Temple and Yoganandamayi Matha Ashram. Stay Overnight.
Day 02 - Chennai to Mahabalipuram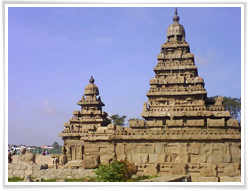 Drive to Kanchipuram & Mahabalipuram back. Enroute to Visit Thiruverkadu / Mangadu: Sri Sakthi Temples. Visit Sri Ekambareshwar Temple, Sri Kailashnath Temple, Sri Kamatchiamman temple (Sakthi Temple) Ulagalanda Perumal Temple & Sri Varadharaja Swamy temple at Kanchipuram PM: Visit Shoretemple, Five Rathas, Arjuna Dhabas etc at Mahabalipuram.
Day 03 - Mahabalipuram to Tiruvannamalai
Drive to Tiruvannamalai. Visit Arunachala. Stay at Hotel Ramakrishna.
Day 04 - Tiruvanamalai
Full day at Arunachala. Stay at Hotel Ramakrishna
Day 05 - Tiruvanamalai to Pondicherry (132 kms)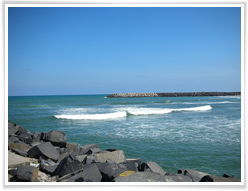 Morning drive to Pondicherry. On arrival check in to hotel. After refreshment go to visit Aurobindo. After visit come back to hotel for night stay. Overnight at Hotel.
Day 06 - Pondicherry
Day is free at Aurobindo ashram for spiritual activities like Yoga. Stay Overnight
Day 07 - Pondicherry to Chidambaram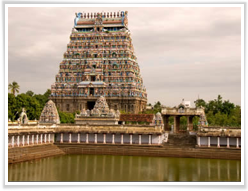 Drive to Chidambaram. Arrive & check in hotel. Visit Chidambaram Sri Nataraja & Sri Vishnu Temple Then Drive to Vaitheeswaran Temple ( One of nine Temples of Navagraha) Visit Angaraha Temple(Mars) Then drive to Thiruvengadu(Budha/Mercury) Temple Kilperumpallam Temple(Kethu) Temple then drive back to Chidambaram O/N
Day 08 - Chidambaram to Kumbakonam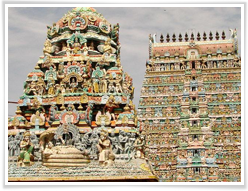 AM: Drive to Thirunallaru ( Sani or Saturn) Temple, enroute Thirukadaiyur Sakthi Sri Abhirami Temple(Famous for 60th & 80th Birth day celebrations)(Optional) Then Drive to Alangudi(Guru/Jupiter) Temple then drive to Kumbhakonam Visit Thirunageshwaram Sri Nageshwara Temple(Raaghu), Sri Uppiliappan Temple, Sri Sarangapani Temple & Sri Chakrapani Temple O/N at Kumbhakonam (ARR HOTEL/Sterling Swamimalai/Kumbakonam)
Day 09 - Kumbhakonam to Thanjavur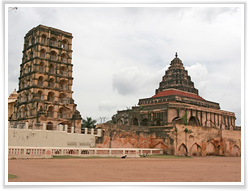 AM: Drive to Thingalur (Moon) Temple, Suryanar(Sun)Temple & chanur(Sukra/Venus) Temple PM: Drive to Tanjore Visit Big Temple, Museum & Sri Rajarajeshwar Temple Overnight at Hotel
Day 10 - Thanjavur
AM: S/S of Tanjore Visit: Bigtemple(Sri Prahadeeshwara emple),Museum,ArtGallery, Sri Mariamman Temple(Sakthi Temple) After Lunch Drive to : Trichy Visit Rockfort, Sri Ganesha Temple,Srirangam Sri Ranganatha Temple & Samayapuram Mariamman Temple : Overnight Hotel
Day 11 - Thanjavur to Madurai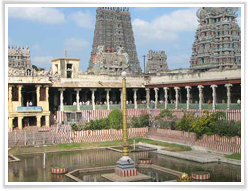 AM: Drive to Madurai : Full Day S/S of Madurai Visit: Alagarkoil & Pazhamudhirsolai Sri Murugan Temples After Lunch:16.00: Visit Sri Meenakshi Amman Temple, Evening Visit to Thiruparankundrum Sri Murugan Temple Overnight at Hotel
Day 12 - Madurai to Rameshwaram to Madurai
Day Return to Rameshwaram & Back Sri Ramanatha Swamy Temple, Dhanushkoti & have Holy bath in 21 wells( believed that all the Holy rivers are gathered there)
Day 13 - Madurai to Matha Amrutanada Ashram
Morning day free. Afternoon take a train to Kayamkulam. Stay overnight.
Day 14 - Matha Amrutanada Ashram
Arrive Amritapuri at 01 am & transfer to Amritapuri Ashram. Full day at Ashram. Stay overnight.
Day 15 - Matha Amrutanada Ashram to Cochin
Full day at Ashram. Late evening drive to Cochin. Arrive Cochin and check in hotel. Stay overnight at Cochin.
Day 16 - Cochin Departure
Morning transfer to airport for departure